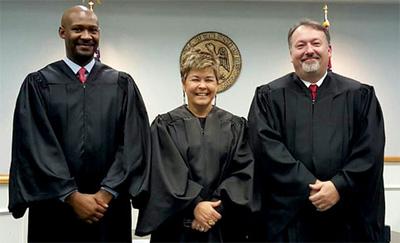 Judges Robert G. Clark III, Cynthia Brewer, James C. Walker
11th Chancery District Court 
116 E. China Street
PO Box 39
Lexington, MS 39095
Office: 662-834-1285
Cases heard in the Chancery Court include domestic/family matters, divorce, child custody, property division, adoptions, alimony, estates of descendants, land issues (titles, contracts), emancipation (declaring a minor to be 21 for work purposes), property title confirmation, property disputes (over $50,000), insurance settlements to minors, and commitments of mentally disabled.
The Judges are known as equity Judges whose area of duty involves more than narrow and rigid interpretations of laws and focuses on protection of individual rights. The Judges also handle other matters, such as petitions to incorporate or enlarge a city, the establishment and management of drainage districts, children's welfare funds, and other projects.
The following Judges preside over the Holmes County Chancery District Court:
Hon. Robert G. Clark III
Hon. Cynthia Brewer
Hon. James C. Walker
---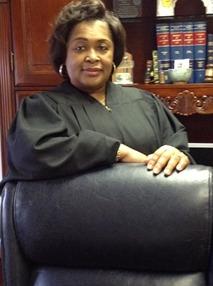 Judge Jannie Lewis
21st Circuit Court 
Holmes County Circuit Court Complex
22549 Depot Street
PO Box 149
Lexington MS 39095
Office: 662-834-1452 
Website: http://www.21stcircuitcourtms.us/home.html
The Circuit Court has original jurisdiction over all civil and criminal matters not vested exclusively in another court. Circuit Courts hear appeals from County, Justice and Municipal courts and from administrative boards and commissions, such as the Workers' Compensation Commission and the Mississippi Department of Employment Security.
Circuit Court judges are selected in non-partisan elections to serve four-year terms.
Trials are heard with a 12-member jury and usually one or two alternate jurors. A judge may preside without a jury if the dispute is a question of law rather than fact.
The following Judges preside over the Holmes County Circuit Court:
---
Justice Court 
200 Court Square
PO Box 99
Lexington MS 39095
Office: 662-834-4565
Fax: 662-834-1402
Email: justicecourt@holmescountyms.org
The Justice Court resides over a myriad of matters, from civil suits to delinquent mobile home taxes. Traffic tickets issued by the State Highway Patrol and the Holmes County Sheriff's Department are resolved in the Justice Court, as well as Public Service tickets, Gaming, Fishing and Marine Reserve tickets.
This Court hears all matters with regard to DUIs and violations of County ordinances. All felony cases are first heard in the Justice Court for initial appearance and the filing of affidavit. Judges from this office have court sessions at the jail three times each week to ensure each person's right to have an initial court appearance within three days of arrest.
The following Judges preside over the Holmes County Justice Court:
District 1 - Hon. Shirley Neal
 
District 2 - Hon. Marcus Fisher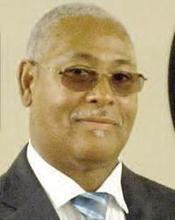 Judge Shirley Neal
Judge Marcus Fisher
---
Youth Court  
Holmes County Courthouse
P.O. Box 239
Lexington, MS 39095
Youth Court serves many important functions. For example, the youth court has exclusive jurisdiction or power over : (1) Hearings when a child commits a delinquent act – an act that would carry criminal punishments if committed by an adult; (2) Hearings when a child has been abused or neglected – whether it be physical, mental or sexual abuse/neglect; (3) Hearings when a child is unruly or in need of supervision and is a dependent child; (4) involuntary committals of children in need of special care or mental treatment. Youth Court may also hear cases to terminate parental rights when parent(s) have failed or neglected certain key duties to the child or children. The County Court may also serve as place where child support claims and issues of paternity are presented; this is a shared or concurrent power with Chancery Court system.
The Mississippi Youth Court Laws are to be liberally construed to provide that each child [in youth court] shall become a responsible, accountable and productive citizen, and that each such child shall receive such care, guidance and control, preferably in such child's own home as is conducive toward that end and is in the state's and the child's best interest.
It is the public policy of Mississippi that the parents of each child shall be primarily responsible for the care, support, education and welfare of such child or children; however, when it is necessary that a child be removed from the control of such child's parents, the Youth Court shall secure proper care for that child or children.
NOTE: The two principal factors determine the jurisdiction of Youth Court: age and conduct. The outer limit for Youth Court is eighteen (18) years of age. [The age at the time of the offense.]
John M. Gilmore, Youth Court Referee
15288 S Jackson St.
PO Box 151
Durant MS 39063
Office: 662-653-3030 
Fax: 662-653-3090
John Gilmore, Youth Court Prosecutor
116 Court Square
PO Box 90
Lexington MS 39095
Office: 662-834-3600
Karen Hunter, Youth Court Counselor
PO Box 120
Lexington MS 39095
Office: 662-834-1511 
Fax: 662-834-3362
---
County Prosecuting Attorney
The County Prosecuting Attorney represents the state in all felony matters before the county's justice or county court. Also, the Prosecuting Attorney represents the state in criminal cases appealed form justice or county court to circuit court, can present matters to the grand jury, is responsible for all misdemeanor youth court proceedings and all other cases not specified to the District Attorney.
Charles Edwards
103 West China Street
Lexington MS  39095
Phone: 662-834-9029
---
District Attorney - 21st  District
Akillie Malone-Oliver
458 E. Madison
PO Box 311
Durant MS 39063
Office: 662-653-3191 
Fax: 662-653-6723
Email:  districtattorney21st@yahoo.com